Seica – Haverhill, MA, January 2022  –  Once again, customers looking for leading-edge test solutions can come to Seica's booth 1100 and view the future of Flying Probe test in the form of the new PILOT VX platform.  Fast, Powerful and Smart: the Pilot VX raises the bar of flying probe test performance, with cutting-edge solutions that address the fundamental concerns of electronic board manufacturers looking to optimize their investment. 
One concern is cost, and since time is cost a reduction of up to 50% in test time due to the new state-of-the-art mechanical performance and motion control saves you money. The Pilot VX has 12 multi-function test heads providing the capability to contact up to 44 points simultaneously, and technologically advanced measurement hardware, new microwave-based measurement techniques and optimized VIVA software management enabling the parallelization of different types of tests, saving more time, and smart analysis capabilities together with algorithms based on the principles of artificial intelligence which can automatically optimize the test flow in run-time, while maintaining test coverage targets.

Optimizing your investment, in terms of meeting more of your needs, is also important, and requires flexibility. For example, a flexible solution may allow you to meet your production targets with one system instead of two, or you could configure the line to optimize throughput by integrating multiple systems, each performing a different part of the test process in parallel to the others. A vast selection of test performances means that the test process can be tailored to the specific requirements of the product being tested, whether it be a relatively simple bare printed circuit board, a complex wafer or PCB with passive and active embedded components.  Seica's flying prober can test fully loaded double-side boards with components that also need to be programmed, LEDs to be tested electrically and optically, flex circuits, and very small and very large boards with very small and very large components….
in short, the Pilot VX is a flexible, configurable test system with an unrivaled set of technologically advanced tools, able to provide the test solutions required by the huge diversity which characterize today's electronics.
Seica's software gives you complete visibility of the test process and provides full traceability, allowing you to certify the quality of the product and to improve yields by utilizing the analysis of the defects found to diagnose problems in the upstream manufacturing process. Going beyond the ability to store the test data, the Pilot VX has the capability to collect and store the data regarding the mechanical pressure applied by the test probes on every point on the board under test, making it available for visual, graphical and statistical analysis.
In order to meet the mechanical challenges of probing the extremely miniaturized circuits in multiple types of electronic products and to measure very small electrical values, high precision is a must. With a positioning precision of +/- 10µm, the Pilot VX is able to probe 20µm pads, measure values such as 0.05pF capacitance or 100 µohm resistance and, with a minimum spot of 200 µm, the integrated laser inspection tool can perform presence/absence checks of even 01005 SMDs.
Automation is pervasive in today's factories and in most production lines, creating the need to manage not one system, but rather a series of machines and handling modules, including robots, in a fluid, optimized manner. The Seica Asset Manager (SAM) software suite is a configurable platform that can simply perform basic functions such as the connection of a test system to the factory MES, but it also has the potential to supervise all of the assets in a roboticized line according to the MQTT (Message Queuing Telemetry Transport) Broker IIOT standard, which can then be monitored on a remote PC, tablet or mobile device via the customizable Seica Dashboard Application.
In addition to our new Pilot VX release Seica will also exhibit our Pilot BT, Compact SL, and Dragonfly.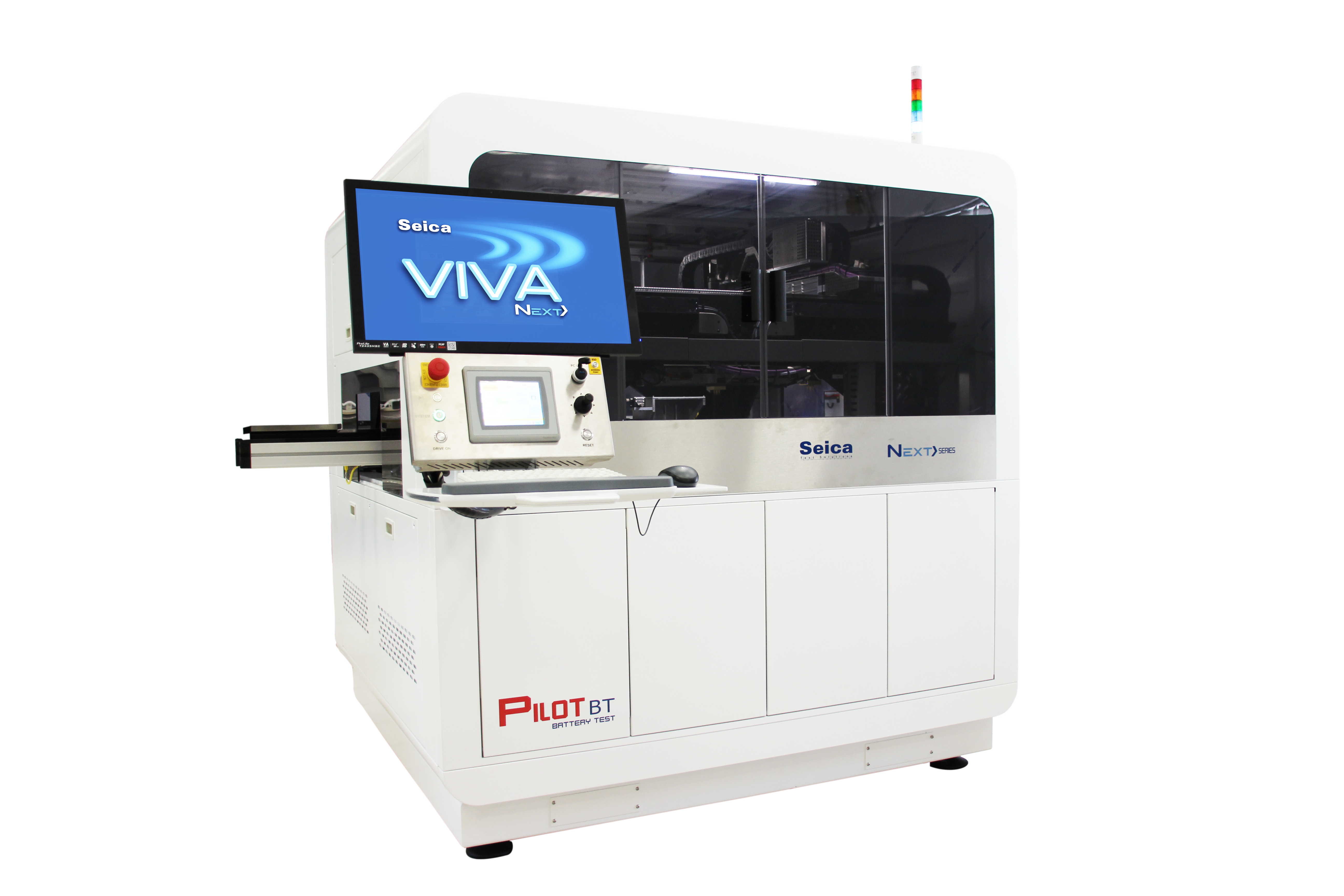 The Pilot BT is our next generation battery pack flying probe tester, and it provides the capability to test dozens of battery cells in parallel for the highest throughput on the market today for electrical testing of batteries. Whether the battery is a cylindrical, pouch, flexible circuit, or prismatic constructed cell we have a flying probe test solution.  With over 10 years in R&D investment in flying prober battery testing technology and research, Seica is truly the innovator and the originator in this market for this type of technology.
The Compact SL is our traditional in-circuit and functional test solution for medium to high volume production.  The Compact SL on display will be our in-line automated solution set up for Factory 4.0 integration.  Our true 'combinational test system" is not just performing in-circuit tests but also functional power up testing.  Whether you have a need for both test technologies or one or the other, our Compact line is easily configurable to perform any type of testing your design or advance manufacturing engineers dictate.  Additional options include boundary scan, on board programming, thermal test, data regeneration, LED,  and custom functional testing.
The Dragonfly is our line of AOI (automated optical inspection) conformal coat and through-hole-technology (THT) inspection systems.  On display will be our desktop hybrid version which has the new parallax LED scanning system with an innovative LED design, enabling it to switch from conformal coat inspection to THT inspection.   With advanced optical technology, the Dragonfly can determine a multitude of defects such as contamination, delamination, air gaps, splashes, voids and peeling, to name a few. The benefits of the Dragonfly are ease of programming, lower costs of test, almost zero maintenance costs compared to traditional AOI systems, and dual hybrid test capability.
http://us-tech.com/RelId/2701004/ISvars/default/Seica_to_Introduce_Latest_Flying_Probe_System.htm